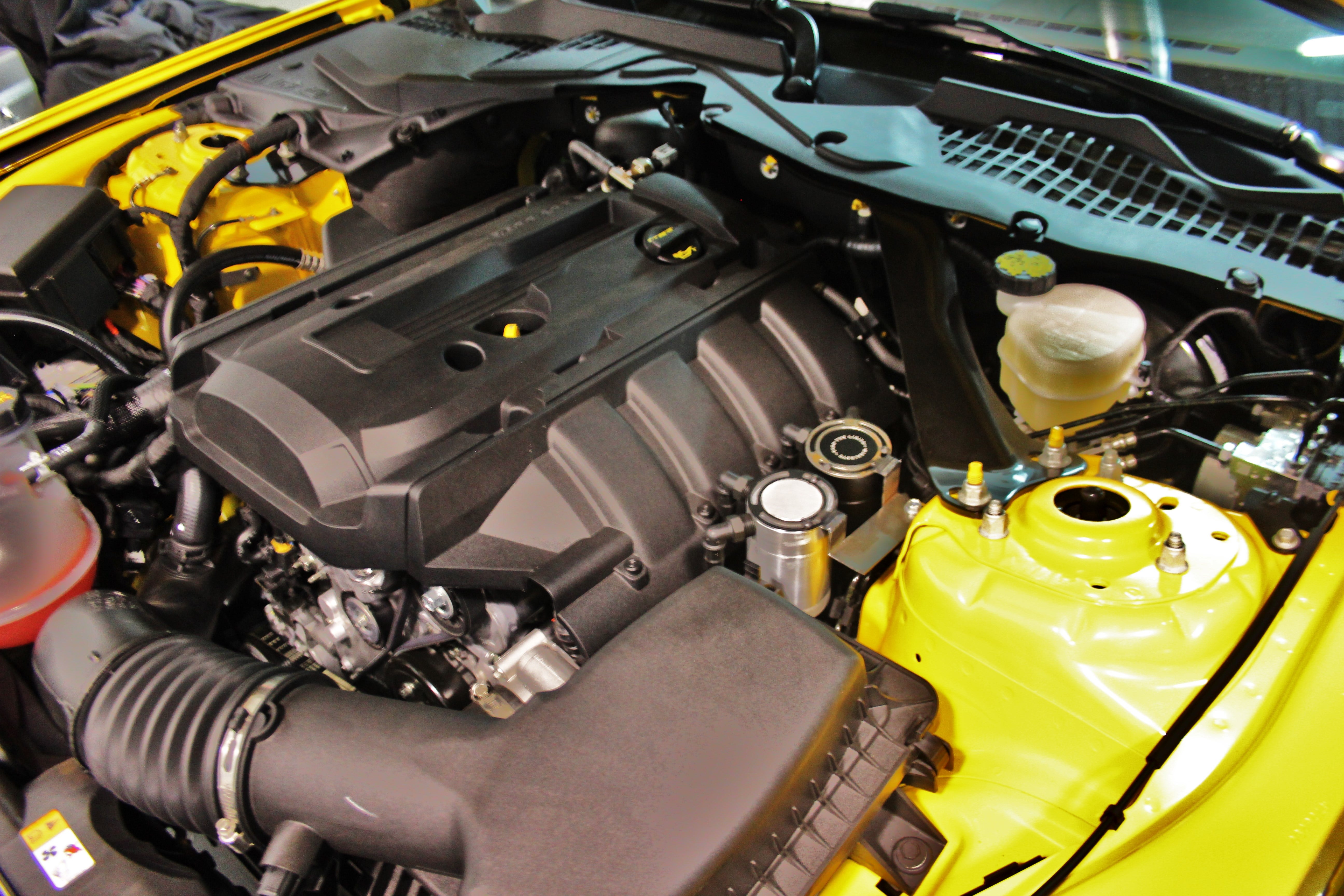 Mishimoto 2015+ Ford Mustang 2.3L EcoBoost Direct-Fit Baffled Oil Catch Can System, Part 2: Catch Can Selection and Bracket Fabrication
Posted:
December 23, 2014
Interested in picking up this awesome catch can kit? Check out more details on our product page linked below!

Now that we had a good idea of where to start with this project, our team began by selecting the appropriate catch can for the Mustang.
Catch Can Selection
We have two options in catch cans. Our standard baffled oil catch can is shown below.
This innovative catch can features a slew of high-quality CNC-machined components. The unit utilizes thread-in fittings, an internal baffle, and a bronze 40-micron filter to separate the particles. We have had a ton of success offering this product as a universal catch can. One thing that may hold us back from using this component in the Mustang 2.3L is the general footprint. This is a large catch can and provides a massive volume for oil collection. Although the engine compartment of the 2.3L is rather spacious, we would need to fit two of these cans under the hood. This could affect the appearance of the kit and would also have an impact on fitment with other aftermarket components.
We addressed this issue a few months back and introduced an awesome new compact baffled oil catch can. This unit includes all the great features of our larger unit, all squeezed into a smaller package. Check it out!
This catch can is so awesome that several of our employees preordered them for their own vehicles. This can has found its way into our existing direct-fit kits and has worked out quite well. This will be the can our team uses for the Mustang. There " it has been decided!
We mentioned that we would need two catch cans for this particular kit. We also discussed this a bit on the forums already. Unfortunately, one catch can with three ports cannot be used to link a breather and PCV line. These lines will have differing pressures, which can cause some serious issues. Instead, we use one catch can for each line to ensure no ill effects. Since the Mustang has only one breather line, we will require only two 2-port cans for the mighty 2.3L.
Catch Can Bracket Fabrication
Time to grab some steel and get to work mocking up some brackets. Our goal here is a clean installation, without a mishmash of hoses splicing throughout the engine compartment. This kit needs to look like it was equipped on the vehicle from the factory.
Here we have Dan taking a few measurements near the driver's strut tower. We decided that this was a good location for mounting our catch cans. Not only would it provide ideal proximity for short line routes, but it would also stay out of the way of the turbocharger. We are well aware that turbo upgrades are certainly possible for those seeking big power, so we are looking ahead to pick a location with the smallest chance of fitment concerns.
After some initial measurements, one bracket was created and mounted into position.
Then we added a second bracket to the setup. These two brackets work together to create a rigid mounting point for the dual can setup. Check it out!
One important factor we wanted to consider during design was the ease of servicing the cans. Our goal is that the user can easily remove the can base to empty the contents without touching the hoses or bracket. Here is a shot of one of our team members checking clearance.
Plenty of room!
Now that we had a solid location for the catch cans themselves, we would need to sort out the line routing. Check back with us next time for our hose mockup and final prototype.
Thanks!
Interested in picking up this awesome catch can kit? Check out more details on our product page linked below!