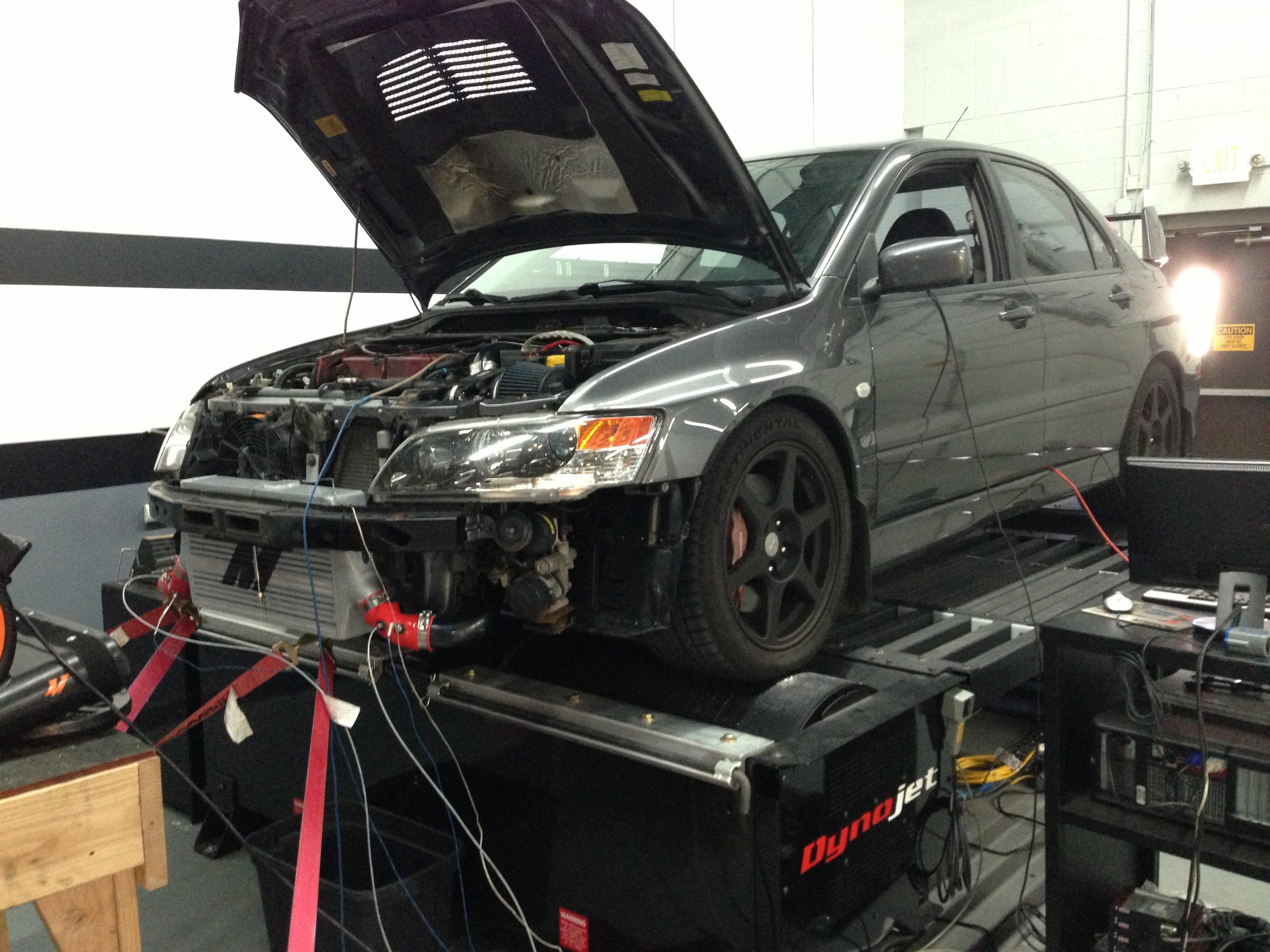 2001-2007 Mitsubishi Lancer Evolution Performance Intercooler, Part 2: Data Collection and Project Completion
Interested in purchasing our Evolution intercooler? Check out our product page for more details!
And we are back! Enough drooling over our large core, cast tanks, and slick powder-coated finish. It was time to put these coolers to work. If you recall from the previous post, our fantastic engineer Steve is the proud owner of the super clean Evolution 9 you see below. Steve agreed to donate his vehicle for testing, which eliminated the process of tracking down a local Evo that would fit our requirements.
Check out the specs on the car!
Modifications
Aftermarket Intake
Turbo-back Exhaust
Intercooler piping
Tune
An abundance of boost
We would be doing back-to-back testing, comparing the stock intercooler with the Mishimoto unit. As stated before, we have two prototype core configurations that needed to be tested. Our PLX devices would be gathering pressure and temperature information, and we would also be recording power output. Testing conditions were 83°F with 35% humidity on this particular autumn day in Delaware. Our first task was to collect information for the stock intercooler, so we made dyno pulls until we had three consistent runs. This car was making 342 whp and 307 ft-lb of torque while nearing 30 pounds of boost. Intercooler outlet temperatures were creeping toward 140°F, which is not optimal for performance.
Below is the PLX system we use for collecting our data points. You can also see the sensors installed in the couplers.
It was now time to test one of our prototype coolers, the serrated fin style. It was immediately obvious that this core was not going to work out. We predicted that increased turbulence, due to fin design, would result in greater heat transfer. One downside of this feature is increased pressure loss across the core of the cooler. This pressure loss was far too great for our goals, and was not creating the efficiency we were chasing. This design would likely provide fantastic efficiency for much higher horsepower vehicles, but this was not our target for this particular project. So, we moved on to our second core design, a straight, perforated style core, which should provide less turbulence and a pressure loss more similar to the factory cooler.
With the second core installed we made several more dyno pulls until once again, we had three consistent passes. The results for this particular core far exceeded the previous design. The key goal for this project was to find out how effective the cooler was at transferring heat and keeping high intake temperatures at bay. Our data showed that this cooler achieved quite a large decrease in temperatures. The factory cooler reached 137.7°F at its peak, while the Mishimoto intercooler reached just 109.5°F. This is just 26.5°F over ambient temperatures! The stock cooler maintained an average temperature of 113.6°F compared to the Mishimoto average of 99.4°F, which is nearly a 15-degree drop in overall average temperatures during the dyno pull. Check out the chart below!
With these results in the books, we could have stopped and called this project a success. Instead we dove into our other data points to be sure we weren't leaving anything on the table. First up was pressure loss. Higher pressure loss will result in greater intercooler inlet temperatures which will effect the outlet temperatures as well. The key is to balance pressure loss and core density to provide the lowest outlet temperatures possible. Once we analyzed the data, we saw a 0.4 psi loss in pressure compared to the factory cooler. This is more than acceptable considering the cooling benefits of this intercooler.
Our last data point for comparison was power output; after all, everyone wants more power!  After looking at dyno plots, we saw a huge gain in both horsepower and torque in a majority of the rpm range. Huge gains were found in the lower end of the range, which is a great improvement to the stock core. Maximum gains were 8 hp and 10.7 tq. We saw the biggest gain of 19 hp in the lower rpm range, below 4,500. Check out the dyno plot!
Testing was completed on the Mishimoto cooler without any additional tuning. Our engineers think that more power can be achieved with a tune specific to the capabilities of the new intercooler. We also expect similar performance with a stock Evolution and even greater efficiency with a vehicle producing up to 500 whp.
With all our data complete, organized, and very positive, it was time to close the project and begin mass production of this intercooler. Although a long process, our team learned quite a bit and were able to develop a fantastic product. Let's go over the goals of our project and review the overall success and features.
Goals
1.       Must provide substantial cooling benefits compared to the factory intercooler
The Mishimoto intercooler showed huge decreases in AITs for our test vehicle, with drops peaking at 28°F and average drops of 14.2°F. This drop in temperature will provide a more dense charge of air and allow for more aggressive tuning, resulting in improved power output.
2.       Must support a minimum of 500 whp
The test vehicle used in this project was making 350 whp. Using formulas based on core volume and construction, our engineers are confident in rating this intercooler efficient for stock vehicles and modified vehicles up to 500 whp.
3.       Must use a bar-and-plate core at least 3.5" thick
This intercooler uses a very dense bar-and-plate core that is exactly 3.5" thick. We found this core size and configuration to be very efficient for our target power and boost range.
4.       Attempt to provide bolt-on power with Mishimoto intercooler installation
We were able to provide our test vehicle with a maximum power increase of 8 hp and 10 tq, as well as nearly 19 hp at lower rpms compared to the stock intercooler. Similar power gains can be expected for both stock and higher-horsepower vehicles.
5.       Must have precision designed cast end tanks to provide optimal airflow
The cast end tanks designed for this intercooler are precision engineered for optimal, uninterrupted airflow. Our team modified the inlet/outlet to provide the least resistance and greatest inner diameter possible for airflow.
6.       Must support boost pressures of 30 psi or greater
This one was easy! Our test vehicle (which endured numerous dyno pulls) was making just under 30 psi. Based on the materials used and construction process for this intercooler, we can rate this intercooler much higher than 30 psi. The vehicles in our target horsepower range are unlikely to be making more than 35 psi, and this cooler will have no problems supporting this.
With our goals met it was time to put a close on this project, but not without a few videos! First up is a dyno video taken during the testing process. Check it out.
Also, we are not all work and no play! Thanks to a very snowy winter this year, Steve has had plenty of opportunities for fun in his Evo. Check out this video! We allowed Steve to keep the intercooler we tested on his vehicle. It seems be doing quite well!
Disclaimer: Professional driver on a closed course, miles from civilization, outside of the USA, in a country that should not be named and cannot be recalled.
Feel free to follow up with any questions or comments!
Thanks!
Interested in purchasing our Evolution intercooler? Check out our product page for more details!