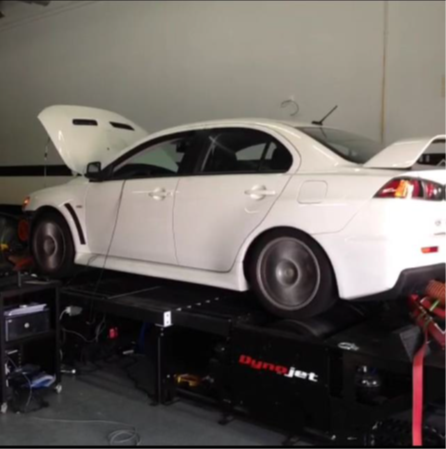 2008-2014 Mitsubishi Lancer Evolution Performance Intercooler Part 2: Prototype Initial Testing
Posted:
February 25, 2014
Interested in purchasing our Evolution intercooler? Check out our product page for more information!
Now that we had a prototype, we would be determining if any initial points of modification could enhance performance. First we looked at the core composition and were very pleased with it. We received a couple different cores with varying fin pitches and bar heights. We would be testing each of these cores to see how the changes affect power output. Check out the images below for a look through the end tank!
Our team was immediately concerned with the thickness of the castings for the inlet/outlet. We were focused on creating a heavy-duty product that could withstand anything thrown at it, so these end tanks were cast fairly thick for durability and boost tolerance. Because of this thickness, the inlet and outlet lost some inner diameter (while keeping them thick), which would provide a slight restriction compared to the OEM intercooler with its thin-walled inlet/outlet. Using some information from a recent project (Subaru WRX/STI Top-Mount Intercooler) our team decided to replace the inlet/outlet portion of the tank with thinner pipe that would be welded to the tank. This would ensure a durable tank without compromising airflow. Our team set about working. First removing the cast inlet/outlet and then welding our new ones on! Check out the results below.
Once finished we relaxed with a few brews (Joking, this is a workplace after all! But Friday afternoon desk brews would be nice, just saying.) and discussed testing. We decided to bring in a stock vehicle for initial testing of the performance benefits for stock vehicles. Once we confirmed a successful fit, we could move onto the fun stuff and bring in a vehicle with higher horsepower.
Our first vehicle was a 2011 Evolution GSR. This car was completely stock with no modifications - a perfect choice for a baseline test. First we obtained data from a baseline run with the stock intercooler set up on our Dynojet. Testing was done towards the end of summer here in Delaware with temperatures at 85˚F-87˚F and extremely high humidity. We made three runs with the stock cooler to achieve an average output for the cooler. The stock setup was making 287 hp / 286 tq, which is quite impressive for a stock vehicle.
Once complete we made runs with both our prototype coolers (two different fin compositions), and it was clear that the one core performed much better than the other. The larger ambient fin height of 8.5 mm made a huge impact on performance compared to the 6.5 mm fin height, so we selected the core with larger fin to move forward with the project.
With all runs complete on the stock vehicle and the core prototype we analyzed the data to see how our intercooler stacked up against the stock unit. The results are in! Check out the dyno plots below!
The Mishimoto intercooler made power through a majority of the powerband compared to the stock cooler. We saw maximum gains of 10 hp / 10 tq at right around 5,000 rpm. These great initial test results showed that simply bolting on this cooler will net your stock Evolution some easy power.
However, we needed to confirm all our goals, so we would need another test fit vehicle with a bit more punch. Check back next time where we strap another test vehicle on the dyno and make some high-powered pulls!
Interested in purchasing our Evolution intercooler? Check out our product page for more information!