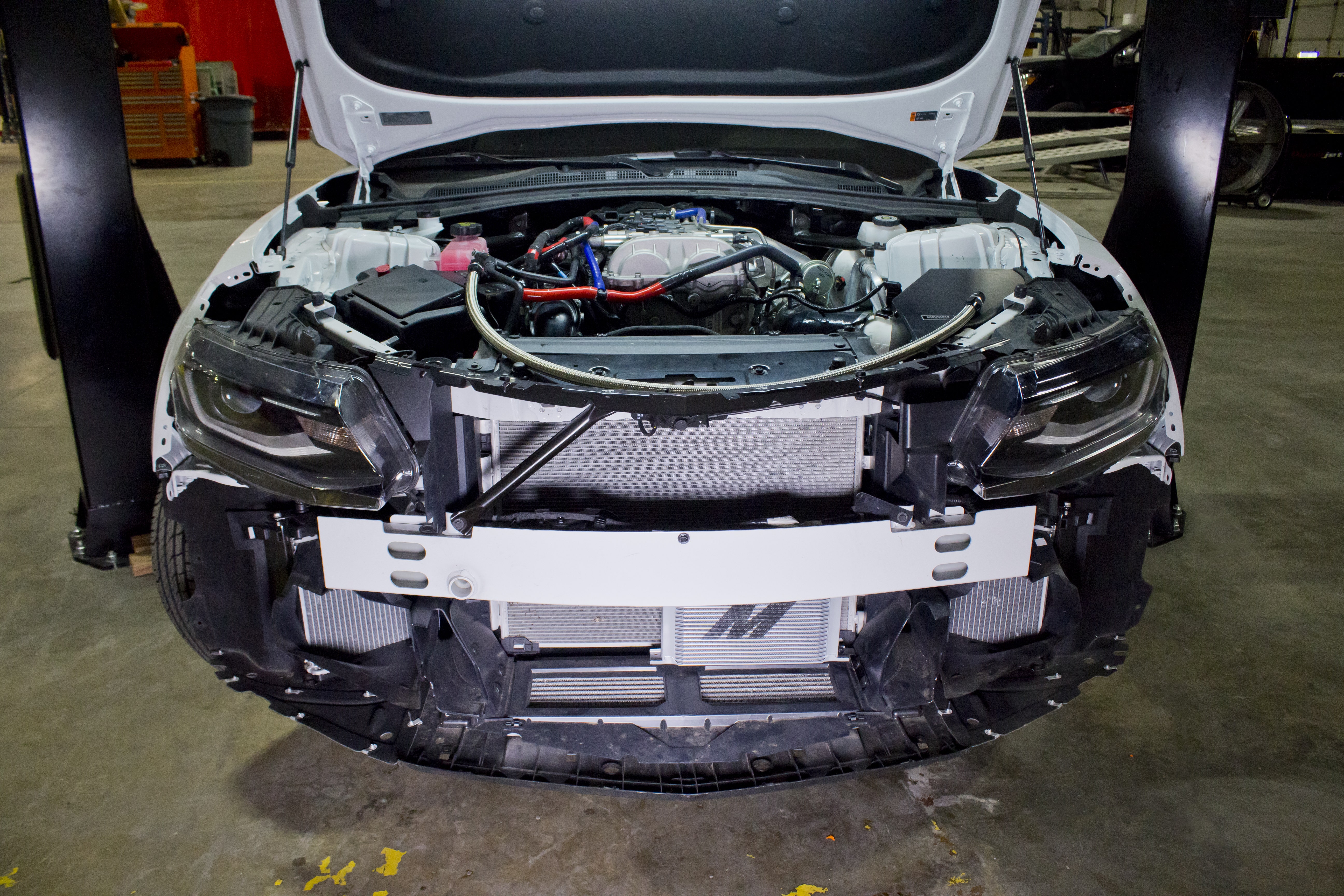 Any Cooler You Like - Oil Cooler R&D, Part 2: Data and Pre-Sale!
Posted:
November 11, 2016
Well, our SS and our 2.0T have quite the sibling rivalry, and as a fellow older brother, I can empathize with how the SS must feel to be challenged by this little 2.0T. However, older siblings are also often blessed with an innate ability to do things far better than their younger siblings (my sisters don't read car blogs, so I've basically got free reign here). As such, I'm sure the SS has some confidence in its oil cooling ability, and rightly so. But how will the 2.0T stack up?
Younger siblings, ungrateful beneficiaries of free-ridership, often enjoy the ability to hop on the coattails of big bro and whisk themselves away into a world of PG-13 movies, unearned responsibilities, and other undeserved privileges. The 2.0T is no exception, as it's already been able to finagle itself this oil cooler. And guess what! You don't need to wait any longer to also benefit from this, because the pre-sale for the Mishimoto 2016 2.0T Camaro oil cooler begins today.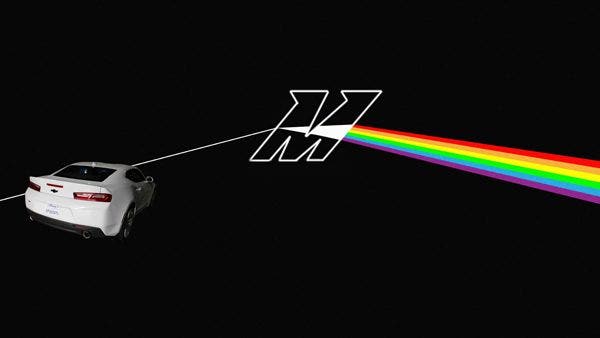 Before we find out how the 2.0T performed, let's check out some installed shots.
All You Touch, and All You See
Let's get right into it and see how this oil cooler kit looks, perched in the front of our Camaro 2.0T.
This oil cooler kit includes a 25-row heat exchanger that sits up front mounted in the front left of the car's front bumper cavity. The exchanger itself is available in your choice of black or silver. Fitment is perfect with our supplied brackets; the horn needs to be slightly relocated, but we provide the bracket for that too!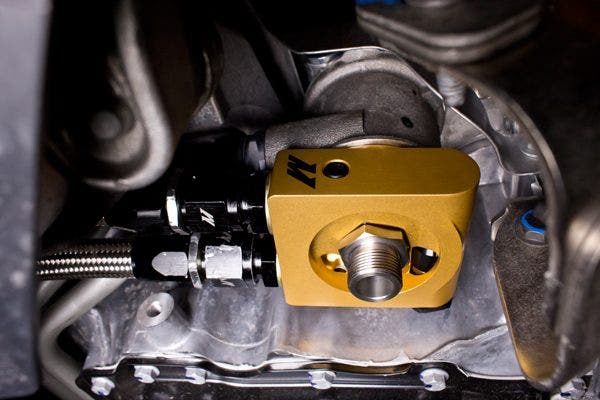 To send that oil up to the front of your Camaro where the exchanger sits, we utilize a sandwich plate, mounted in the oil filter housing. This is available in thermostatic and non-thermostatic configurations, so that you can choose the optimal balance of cooling and drivability. We'll learn more about that in the next section.
Data, It's a Hit. Don't give me that do goody-good"
We won't! I know you care about the numbers and want to see these claims substantiated. We tested this oil cooler thoroughly in order to quantify its cooling effect on your Camaro's oil temperatures, and came back with some pretty nice results.
For testing stock temperatures, we took temperature measurements of oil after it was cooled by the stock system, just before where it's routed back into the block. In order to test our Mishi oil cooler temps, we used the non-thermostatic sandwich plate so that our results weren't skewed by the thermostat opening and closing. We measured inlet oil temperatures before our oil cooler, and we also measured temperatures after the cooler before the block.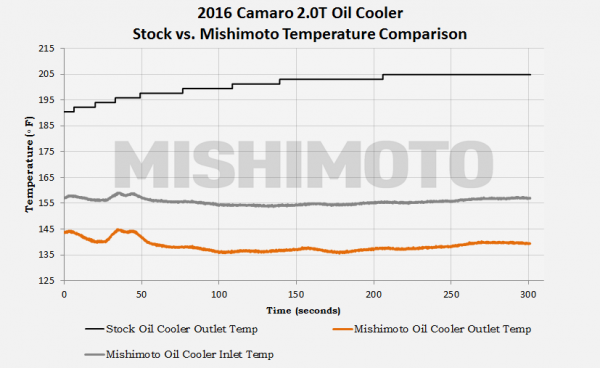 As you can see from the temperature graph, the Mishimoto Camaro oil cooler dropped the temperatures of oil on its way into the engine by over sixty degrees Fahrenheit. As a reminder, this is using a non-thermostatic sandwich plate, so the oil is always traveling through our exchanger. This is ideal for track situations when the car is being pushed and the temperatures are going to be hotter than they would on the street.
For street driving, the thermostatic option will allow your oil to bypass the Mishimoto cooler until it gets hot enough to really need it, at which point the thermostat will open to allow your oil to run through our exchanger. This is perfect for the road because it will allow your car to properly heat up to operating temperature and stay there, only bringing temps down when they get too hot for comfort.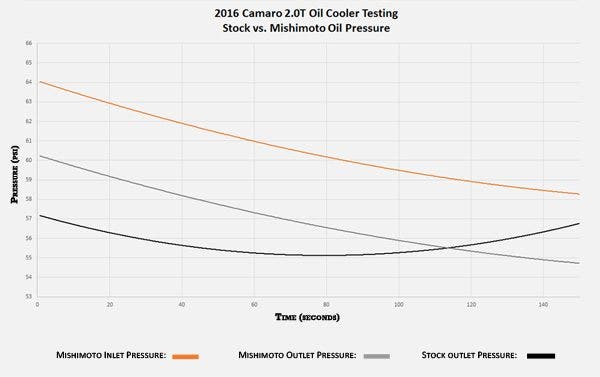 As you can see, pressure levels are maintained well within safe operating parameters, and are very similar to stock.
What's next?
So, I'm sure that during this busy time of year, many of you are On the Run, but stop for a second, Speak to Me/Breathe, and take some Time to investigate this pre-sale. It's a great way to save some Money before normal prices Eclipse the pre-sale discount, and you can pick up this kit in Any Colour You Like, as long as it's silver or black.
Thanks so much,
-Gardiner